Ultimate Guide to Outdoor Dining: Da best is over dare…in Valpo!
A challenger to Chicago's supremacy for innovative cuisine and outdoor dining? C'mon man? Nobody comes close to Chicago when it comes to food… including New York! When the Big Apple called Chicago the Second City-it inspired culinary greatness.
My kind of town! From deep-dish pizza to outdoor dining…. the chip on the shoulder attitude was the driving force that allowed Chicago to take anything New York does, and make it better. Chicago didn't stop with making the food better, they made the experience better. Chicago is a friendly city with a strong international influence. The second city status inspired a cultural movement. Hey, Noo Yawk… Nobody does it better than Chicago? No way – fuhgeddaboudit!
Well, now its Chicago that loves to brag! Along with Chicago's great cuisine comes great arrogance. Chicago is the best and they'll let you know at every turn. So if Chicago is numero uno, who the new Second City? Valparaiso…that's who! While Valpo and Chicago both have mastered the art of infusion cuisines, combining international cuisine with the American palate, Valparaiso is attracting Chicago's foodies for the integration of its own unique culture with outdoor dining. Today, you'll discover why Valpo has become the ultimate destination for outdoor dining. Sorry, Chi-CAW-go! Da best is over dare…in Valpo!
Valpo is more than just world-class cuisine… it comes with the best outdoor dining
With roots in Chicago and strong influences from Spain, Greece, Italy, Japan, and around the world, Valparaiso's chefs are winning over even the most pretentious foodies and critics from Chicago.
But if you ask the Chefs in Valpo, the Downtown Valpo Restaurants are not just an off-shoot of Chicago. Valpo has developed a culture of infused cuisine and remarkable outdoor dining.
Cultural ethnicity has inspired much more than just the Valparaiso cuisine, it's the driving force behind the hard work, dedication, and impeccable service that drives people to visit these restaurants. This influence is the cornerstone of Valpo's outdoor dining scene.
In Valpo, a great outdoor dining experience must have this ingredient
According to Radius' Chef Chris Pavlou, the secret ingredient to winning awards is putting the focus on making it fun and creating energy for customers. Pavlou is inspired by his father's work ethic and Greek heritage. While Radius is known for the All-American Hamburger, the Mediterranean influence is strong. Pavlou personally greets every customer himself.
"Everyone at Radius works as a team to create a great experience for our guests. Everything and everyone must work together to achieve this end, from selecting the finest ingredients, creating new recipes, updating your wine and beer selection, and offering the best live music. Everything we do is driven by the reward of seeing customers smiling and having a great time. We even chose our location because it's perfect for outdoor dining. People love the view and all the beautiful people walking around the square. Valpo's a gorgeous town!"
In a recent interview with Cool Cars.No Boundaries, Pavlou said, "If it was just about the food, people would stay home and cook for themselves. People want to be entertained by live music.  They want to people watch. They also want great food. Nothing beats sharing a glass of wine with friends on a beautiful summer night… and nothing beats the fun of outdoor dining".
Happiness is…Outdoor dining!
Valpo's strong outdoor dining scene and culture of working together has set the table for new restaurants to open in the Vale of Paradise.
The progression is also growing beyond just the historic downtown. Just a few blocks North of Valpo's historic downtown is one of the region's best restaurants, Martinis.  Martinis has a huge following for its remarkable cuisine and outdoor dining. Technically on the edge of downtown- the Downtown Valpo Restaurants expanded the downtown border to include them. Welcoming owners Louie and Sophie Kalafatis brings class and leadership to the Valpodining.com group.
Clearly, Valpo's future looks bright, but it hasn't always been the case. Where did Valpo's great taste and culture for the outdoor dining start? It all started 35 years ago when a Spanish Restaurant owner fell in love with a beautiful American and followed her to Northwest Indiana to marry her. It was a love story that changed Valpo forever!
Outdoor Dining. It started 35 years ago with Bull Fighting and a Spanish tradition
Like most cities in the '80s, Valpo was losing its downtown to malls and giant big box stores. Valpo's storied past, established by early settlers way back in 1834, was on the decline. When people wanted to shop, they went to malls. When they wanted a great dinner, they went to Chicago.
That all changed in 1986 when Carlos Rivero opened Don Quijote Restaurant in Valpo's declining downtown.
Chef Carlos Rivero wanted to share his passion for his Spanish food and wine with his adopted country. With a father that was a celebrity chef in Spain, Carlos loved to cook. Carlos had a vision for Valpo that he learned from growing up in different regions of the Mediterranean. He introduced weekly live entertainment, outdoor dining, and helping competing restaurants survive.
People laughed at his outdoor dining and even took bets that he would last a year!
Perhaps his greatest contribution to his adopted town of Valparaiso was the tradition of working as a community. In Spain, restaurants and city officials work together as a community to create an entertaining experience for visitors.  People from the Mediterranean countries put politics aside and work as one to create a great al fresco experience. The Spanish Tapa (small plate servings) originated from people touring all the restaurants- stopping at each restaurant for a small plate and glass of wine.
At first, not everyone was thrilled by Carlos' Mediterranean traditions or international cuisine. One reporter sarcastically published an article that suggested the Spaniard was trying to bring Bull Fighting to Valparaiso. Some people didn't give Don Quijote any chance of surviving and were taking bets when Chef Carlos would close.
Hmmm? It's 40 years later and Don Quijote is one of Valpo's oldest restaurants.  Carlos is celebrated for influences that made Valpo a destination. Ironically, it was the newspapers that didn't survive. I wonder what happened to the reporter. Maybe Carlos can give him a job washing dishes.
A destination for great Chefs and people that love dining al fresco
Carlos's influence did more than attract customers from Chicago. He attracted innovative Chefs that were inspired by Valpo's 'no paradigm' movement. Chef Paul Loduca opened his 1940's Chicago Tavern Steakhouse. Paul operates several restaurants in Chicago's Gold Coast region and saw Valpo's potential. Loduca and Rivero were immediate friends and worked hard to bring the community together for festivals, food events, and charitable fundraisers.
More recently, Chris Pavlou opened Radius in downtown Valpo. Like Carlos before him, nobody gave Pavlou's restaurant a chance when he opened-with the exception of Chef Carlos. Carlos stood shoulder to shoulder with Pavlou and helped him get through a turbulent start. Pavlou was named the 2019 NWI Restaurant of the Year.
Chris Pavlou seems to be the new version of Chef Carlos, which Chris considers an honor, but is quick to point out that he is much better-looking. All joking aside, Carlos believes Chris can continue the Valpo progression and recently appointed Chris as his replacement as the leader of the Downtown Valpo Restaurants.
Valpo's outdoor dining grew with a new generation of courageous Chefs.
Outdoor dining got a jump start in 2006, when a group of restaurants came together to create the Jano Concerts on the Square. It was a free festival series that provided outdoor dining on the Court House Lawn. Each festival showcased the culinary skills of Valpo's talented Chefs. Each festival was widely attended and a huge hit with people all over Northwest Indiana. It demonstrated that people love an al fresco experience in Valpo's historic downtown.
Chef Eddie Luick was a young chef running Bon Femme for the legendary restaurant owner, George Nissan. Chef Eddie had his finger on the pulse of the unique dining scene and knew what people wanted. His intimate relationship with the local market gave him the courage to push the envelope with his daring dishes. Years later, when Chef Eddie opened his Blue Point Restaurant, he combined his unique culinary skills with a location that many consider the best outdoor dining location in the region. The rest is history.
Chef Cory & Blair Muro from Ricochet have a similar story. Their unique branding is integrated into their culture, food, design, and outdoor dining space. Like their unique international cuisine, the Ricochet location is original and tasteful. Visitors love the breathtaking view of the Court House and Valpo's iconic main street.
Learning from Chicago's remarkable culture
Most of the Chefs that collectively make up the Downtown Valpo Restaurants have roots in the Chicago culinary scene. Valparaiso wouldn't have its culture and great restaurants without Chicago's influence. Many were influenced and trained by Chicago's best chefs.
Just look at Pikk's Tavern owner and Chef, Paul Loduca. Loduca splits his time between his 2 Chicago restaurants and his Valparaiso restaurant. Loduca's success can be attributed to spending his childhood working for his father's award-winning Italian restaurant in Munster. Loduca spent every Friday and Saturday night working for this legendary Chicagoland restaurant. It made him an amazing chef. It also made him learn the importance of creating a great experience.
While Chef Loduca is known for his innovation and courageous transfusions, it was his father's influence that sharpened the instincts that brought him to Valpo. Loduca saw the potential and set up his restaurant in a location that allows guests a VIP view of live concerts at Valpo's Central Park.
Chicago taught Danny the art of Japanese cuisine…Valpo taught Danny the art of community
The wonderful thing about the unique culture in Valparaiso's downtown is the "pay it forward" attitude of the Downtown Valpo Restaurants. Chef Danny at Furin Restaurant gets it! When he first came from Chicago to open his Furin Japanese Restaurant, he had many challenges and learning curves.
Rather than looking at Danny and his wife Annie as competition, Carlos, Chris and others from the Downtown Valpo Restaurant Group would help Danny, advise him and offer words of encouragement.
Now outdoor restaurant seating at Furin is one of the hottest tables in Northwest Indiana. With Danny's infectious smile, impossible knife work, and mastery of Japanese cuisine, Chef Danny is now a pillar in the outdoor community. Danny was moved by the support and sense of community that allowed him to become a success and looks forward to helping the next new restaurant that opens. It's the Valpo way.
Ultimate Guide to Outdoor Dining
Today, the Downtown Valpo Restaurants are proud to welcome a new wave of friends to their special community. Martinis Sophie and Louie are expanding the group's reach to the near North of Valpo's downtown.
The Shoemaker family from Scarpe is another new member of the Downtown Valpo Restaurant Group. Scarpe's outdoor patio overlooks Valpo's Central Park. A festival at the Park never looked better.
Martinis  | Outdoor dining with Class. 
Martinis is one of the Downtown Valpo Restaurants' newest members, but as anyone in Valparaiso will tell you, Martinis is a Valpo institution. Always innovative and always fresh, owners Louie and Sophie were recruited to join the restaurant group for their selfless leadership and sense of community during the COVID-19 crisis.
These restauranteurs do more than add a large portion of class to the Downtown Valpo Restaurant Group,  their restaurant's convenient location expands Valpo's downtown reach to Evans Ave. Why would the downtown restaurants break borders to include this sensational restaurant? Just stop by for a little outdoor dining and the answer reveals itself. There is something magical about this family-owned restaurant.
Meet me at Martinis! Outdoor dining's perfect rendezvous.
Martinis is a destination for outdoor dining in Northwest Indiana. Nestled between the flowers and herbs, you'll quickly forget your sitting on Calumet Avenue in the Vale of Paradise. In the Greek tradition, the herbs for your cocktail are freshly picked right before your eyes. The sounds of the outdoor waterfall will take you away to an unforgettable experience. This cozy atmosphere is the perfect get-a-way and a top pick for al fresco dining fans from Chicago and Northwest Indiana.
The atmosphere is equaled by the fine selection of wines, culinary cocktails, and craft beer options. But make no mistake, the star attraction at Martinis is the fresh, handmade Mediterranean cuisine. At Martinis, you can be sure everything is prepared from scratch using the freshest ingredients. From authentic Greek to the hand-tossed pizzas, Head Chef Louie is a hands-on owner that puts his signature on every dish. This Chef is as real as it gets!
For a remarkable outdoor dining experience, just call friends and family, and tell them, "meet me at Martinis".
The sizzle!  |  Live Music, Outdoor Dining, Wine List, Tropical Cocktails, Craft Beer, Handmade Modern-American & Greek
Click Menu Image to see food and drink menu-or-set reservations 
Pikk's Tavern |  Outdoor dining that raises the steaks!
The Outdoor Dining at Pikk's is the best seat in Downtown Valparaiso during a live concert at Central Park. It's like having a VIP box at a world-class venue. While watching a music performance is always remarkable from the Pikk's Tavern outdoor dining, the real star attraction is the food and drinks.
Chef Paul Loduca just might be one of my favorite Chefs ever!  Loduca's innovation was inspired by his father, a renowned Chicago area chef, and restaurateur. If you're looking for a classic Chicago dinner, Pikk's "raises the steaks." When it comes to Ribeye, New York Strip, and the Filet Mignon, Loduca brings his Chicago talents to Valpo's remarkable outdoor dining scene.
The outdoor experience is just as remarkable on a gorgeous summer day as it is on date night.
Pikk's Tavern is perhaps the most innovative restaurant I've been to. A 1940's Chicago Tavern theme with a transfusion of American, Italian and Mexican cuisine. The background music adds volumes of coolness thanks to the well-engineered acoustic treatments.
Pikk's is also a destination for craft beer fans. Just sit at the bar, order a delicious Tavern Burger, and start sampling! Cheers!
The sizzle!  | Outdoor Seating in front of Central Park and Concerts. 1940's Chicago Tavern Theme, Steaks, Wine List, Cocktails, Craft Beer, Bed & Breakfast overlooking Downtown
Click Menu Image to see food and drink menu
Furin Japanese Restaurant and Bar  | This outdoor dining comes with a Tokyo state-of-mind
One of Valparaiso's very best restaurants, Furin Japanese Restaurant and Bar brings international culture and good taste to Valpo's outdoor dining scene. Chef Daniel Young Hui Wang brings Japanese mastery to Furin's gorgeous al fresco setting.
For a Tokyo state-of-mind, Furin Japanese Restaurant's indoor space is as authentic as it gets. Fans of Furin love to sit at the bar and watch the Furin Chefs demonstrate their traditional Japanese knife skills.
From cooked sushi to traditional sushi, sampling this Asian menu comes with a remarkable view at the corner of Valpo's historic Lincoln Highway and Franklin Street. The outdoor dining experience at Furin is the perfect setting for fans of this beautiful cultural experience. Even Furin's namesake lends itself al fresco dining.  Furin (or wind chimes) are a symbol of summer in Japan.
Meet Chef Danny & Annie… and discover why they have captured the heart and imagination of Valparaiso
But at the heart of the Furin Japanese Experience are its remarkable owners, Annie Zhang and DannyYoung Hui Wang. It's easy to fall in love with this wholesome, all-American family! Along with their daughter, this family embodies the American dream.
Chef Danny moved to Chicago at a very young age and was trained in Japanese culinary and masterful knife skills working at some of the best Japanese restaurants in Chicago. Danny's passion for cooking motivated him to learn both the art of Japanese cooking while offering a diverse menu that appeals to a range of American palates. Fans of Furin love the opportunity to sample sushi as cooked and traditional Asian.
Furin Japanese Restaurant's diverse menu includes classic Japanese cuisine with an infusion of modern rolls, steak, sushi, sashimi, ramen, teriyaki and bulgogi (Korean style barbecue marinated beef and pork). The Furin Japanese Bar is one of Valpo's most diverse offerings, ranging from Sake, craft beer, fine wines, and culinary cocktails.
The sizzle!  |  Authentic Japanese cuisine, Fresh seafood, Sushi (cooked & traditional)  Japanese knife skills, Saki and Asian Beverages, Craft beer,  Wine List, Tropical Cocktails, Outdoor garden, Japanese Deco & Music
Click Menu Image to see food and drink menu
Ricochet Tacos |  Outdoor dining that embodies the core values of its brand.

The folks at Ricochet Tacos take their brand very seriously. You'll find hints of the Ricochet brand standards in everything they do. From the limited menu to the thoughtfully designed dining space. The Ricochet brand is an embodiment of culinary innovation. It's all about keeping it unique, fresh, and real. This is especially evident in the Ricochet outdoor dining space. The view is fresh. The setting is real and when it comes to the food…it's about as unique as it gets.
I asked Chef Daryn of Ricochet to describe the Ricochet cuisine. Chef Daryn likes to describe the innovative cuisine of Ricochet Tacos as New American. "New American cuisine takes classically-trained elements of French, Asian, Latin American, Mediterranean, and other cuisines combined with the comfort and accessibility as your common American fare."
"We are not Mexican food. We never tried to be, we never will be. We are a hybrid animal of all cuisine styles and cultures. We simply choose one of the most important vessels to tell our story, the tortilla. By its most simple definition and its history and etymology, the taco has an endless open-ended future (pun intended) and we are at the forefront for that growth and discovery. Everything you never thought you would find on a tortilla will be gladly brought to you by the Ricochet team."
The Ricochet culture inspires innovation while the brand maintains good taste!
So where did this unique business model come from? Founders Cory and Blair Muro. Since 2011, Cory and Blair have earned a huge following for their unique concept eateries. Cory's insatiable desire to innovate pairs perfectly with  Blair's desire to create a fresh and wonderful experience for customers.
For a step from the ordinary, Ricochet brings you the extraordinary…. innovation comes with a shell.
The sizzle!  |  Fresh choice for innovative cuisine, fresh & simple ingredients, seasonal menu, and craft beer. Wine List. Outdoor Seating with a mesmerizing view of Court House and historic Lincoln Highway. 
Click Menu Image to see food and drink menu
Blue Point Oysters & Sushi Bar |  Outdoor dining's freshest seafood 
When Chef Eddie took Valpo by storm, it was as an Executive Chef for Bon Femme. Decades later, the resilient Chef has grown up with Valpo's downtown to become a celebrated chef. Eddie's courage to introduce the unconventional has always worked because of Eddie's years of experience cooking in the Vale of Paradise.
Ask the Chef how he can be so daring and still please so many people, and he'll tell you it's because he has an intimate relationship with his customers…  This Chef paid his dues.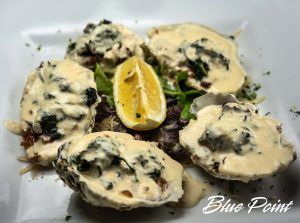 Blue Point Oysters and Sushi Bar restaurant is one of Northwest Indiana's best locations for outdoor dining. Positioned in the heart of Valpo and directly across from the magnificent Court House, Chef Eddie serves Northwest Indiana's largest fresh oyster selection.
Blue Point fans love the remarkable seafood experience while enjoying a tropical cocktail within this ultra-cool patio scene. Although the Chef is known for his seafood, many locals will boast of his perfectly executed steaks, chicken entrees and pasta dishes.
Hand-rolled sushi is an outdoor favorite. Only the best parts of whole fish are sliced: includes yellowtail, tuna, mackerel, and others depending on the specials. Our options include traditional/inside out prepared sushi like California rolls to inventive house creations such as our popular fiesta roll! In addition to rolls, Blue Point serves nigiri and sashimi cuts of high-quality sushi-grade select fish.
Blue Point's fish is shipped daily and Chef Eddie insists on serving only the freshest oyster selection. Chef Eddie might be famous for his seafood cuisine, but as his Valpo followers of over 20 years will tell you, this cat can serve up some of the best steaks and chicken entrees.
Blue Point is a lunchtime favorite for fans of outdoor dining. Without compromise to Blue Point's high standards, the outdoor patio is the perfect spot for a quick lunch with friends and business associates.  My favorite? A quick sushi lunch.
The sizzle!  |  Live Music, Sushi & Oysters, Seafood, Wine List, Tropical Cocktails, Craft Beer, Outdoor Seating in front of Historic Court House
Click Menu Image to see food and drink menu
Scarpe  |  Authentic Culinary from Puglia, Italy
In the heart of downtown Valparaiso, centered on the big stage of our beautiful Central Park, sits a little gem…Scarpe. This authentic Italian restaurant becomes the perfect venue for outdoor dining when Valpo's downtown comes to life during a live concert. The view is absolutely mesmerizing. The Scarpe experience is a celebration of culture.
When it comes to al fresco dining, Scarpe has the credentials to impress. Both of Scarpe's chefs are graduates of the world-famous Culinary Institute of America, in Hyde Park NY and each studied in Puglia Italy!
While in Italy, they fell in love with Italian culture, wine, and cuisine. This passion is at the cornerstone of Scarpe's remarkable outdoor dining experience. Scarpe's menu is as real is it gets. From hand made pasta, fresh-baked focaccia bread, to the house-made fresh mozzarella. Scarpe is the perfect setting for fans of outdoor dining!
Scarpe brings authentic Italian food and wine to Valpo's alfresco dining scene.
The Downtown Valpo Restaurants couldn't have been more honored to welcome Scarpe into its family of remarkable restaurants.  It's not uncommon to find Valpo's top chefs sharing a glass of wine in front of Scarpe with house Sommelier, Adam Shoemaker. According to legendary chef Carlos Rivero, Shoemaker and Scarpe bring world-class legitimacy to the Vale of Paradise.
Scarpe outdoor patio as they relaxing has the largest all Italian wine list in NW Indiana. Our wines are all tasted and hand-selected by our in house Sommelier!

If you are searching for a wonderful indoor or outdoor dining experience, stunning views of Valparaiso's concerts and festivals, and the freshest Italian cuisine and incredible Italian wines, you'll want to experience Scarpe's outdoor patio.
Scarpe brings all of the best parts of their Italian experiences to Downtown Valparaiso!
In addition to our incredible hand made pasta, fresh-baked focaccia bread, and house-made fresh mozzarella, we have the largest all Italian wine list in NW Indiana. Our wines are all tasted and hand-selected by our in house Sommelier!
The sizzle!  |  Largest 100% Italian wine list in NW Indiana-hand-selected by Scarpe's Sommelier!  | Authentic Italian w/2 Chefs from Culinary Institute of America | Craft Beer, Outdoor Seating
Click Menu Image to see Food and Wine menu & Reservations
RADIUS-VALPO  | NWI's 2019 RESTAURANT OF THE YEAR
Radius-Valpo was named Restaurant of the Year by the South Shore Tourism for 2019 and Best Signature Burger at the Chefs of Steel Competition…But according to Chef Chris Pavlou, the biggest award is the unbelievable reviews and tremendous following his Radius earns online.
Just drive by Radius and its always jam-packed with happy, smiling people. The excitement must be contagious, or maybe it's just the Radius cocktails and delicious craft beer, but even the customers are nice. Ask people what they recommend and you'll get an energetic answer. People love the Radius menu. You'll find something for everyone… from signature sandwiches to the All-American burger. Kris even has a huge following for his Keto menu.
Driven to create a remarkable experience
The desire to innovate new recipes is driven by the insatiable drive to create a fresh experience for his loyal fans. The food and drink menus change often because people love innovation.
His creative recipes are especially popular with the outdoor dining crowd. Chef Chris considers himself an artist and his burger is the canvas. His creativity knows no bounds.  The charismatic Chef uses the freshest ingredients to infuse some extraordinary cocktails and tropical drinks…perfect for a night of alfresco dining.
VALPO'S BEST LOCATION, OUTDOOR DINING AND LIVE MUSIC
The insatiable desire to please customers doesn't stop with the innovative recipes of his diverse menu. Chef Chris set up his family restaurant in a location that is as extraordinary as his menu. Downtown Valpo's historic district is a special place, and Radius has the best view in town for a little people watching. Nothing beats al fresco dining at the Radius.
That's entertainment! The live entertainment at Radius taps into some of the region's most gifted acts. Radius was a top pick for Valpo's best music venues.
Everything about Radius is fun. Even waiting for an outdoor dining table can be an adventure. Radius recently doubled the size of its bar. With a fresh selection of craft beer and delicious wines, waiting comes with good taste and lots of fun!
Even the Radius website is an adventure. Browse the interactive menu. Create your own alfresco experience at home with the Radius online ordering. Stay connected with Radius with Social Scene, Radius, or the Events & Specials page.
Want to make reservations? Check out the Radius reservations link… we'll take care of it from there.
The sizzle!  |  Live Music, award-winning burgers, signature sandwiches, keto menu, Wine List, Tropical Cocktails, Craft Beer, Outdoor Seating, NWI Restaurant of the Year
Click Menu Image to see Food and Wine menu & Reservations
SAGE  |  Chic & Casual
Downtown Valpo Restaurants are made up of some real characters…perhaps none more than Sage's Chef Joe. Chef Joe is a real character and knows how to entertain. He will do anything to create an amazing experience for his customers.
His inspiration came from his Italian heritage where cooking was an expression of love.
The outdoor dining has 2 separate dining areas. For those that want a seat overlooking the Central Park Pavilion, Sage is right there. For fans of dining on Valparaiso's iconic Lincolnway, the Sage patio in front is where you want to be.
Either seat comes with Valpo's only Chic Casual Restaurant on Old Lincoln Way. The handcrafted entrees and unique dishes are certain to impress. Come as you are and discover what true treats await you at Sage.
Sage's signature cocktails will elevate your spirits and please even the most discerning palette. The Sage selection of wine is personally selected by Chef Joe and craft beers are ever-evolving and changing!
The sizzle!  |  alfresco over the pavilion, outdoor on Lincoln, Wine List, Italian cuisine, Craft Beer
Click Menu Image to see Food and Wine menu & Reservations
MAIN + LINCOLN  |  Cozy & intimate outdoor dining
Outdoor Dining comes with world-class cuisine when you take a seat at M+L. Fans of outdoor dining love Main + Lincoln's cozy and intimate setting. The thoughtfully prepared seasonal American Cuisine is always fresh and always delicious!
Chef George Djurovic brings international prominence to the Downtown Valpo Restaurants. Indeed, this renowned Chef has the credentials to impress… he attended Paris' Le Cordon Bleu in 1999 and apprenticed under famed chef Alain Senderens at his Michelin 3 star Lucas Carton.
George's training in classic fundamentals under this legendary French chef proved to be a touchstone in his development as a chef.
The menu consists of dishes that celebrate all the ethnicities that have impacted America's ever-evolving cuisine.
Reservations are always recommended at M+L, but when your at Main + Lincoln, even the wait is fun.  For a unique experience, sit at the M+L bar and watch Chef George orchestrate his culinary art and remarkable knife skills.
The sizzle!  |  Live Music, Live Culinary with Chef George, Seafood, Wine List, Tropical Cocktails, Craft Beer, Outdoor Seating
Click Menu Image to see Food and Wine menu 
Don Quijote Restaurant | The restaurant that started Valpo's outdoor dining.
It might seem odd that Valparaiso's first restaurant to offer outdoor dining is the last establishment to make our Ultimate Guide to Outdoor Dining. Why end with the restaurant that started it all? Because it's how Chef Carlos swings. Putting other restaurants first is how this Chef helped Valparaiso become a destination for outdoor dining.
Chef Carlos and his warm-hearted partner, Elena Jambrina, always seem to put themselves last in everything they do, from their countless fundraisers, community leadership, and helping the other restaurants in Valpo succeed. Valparaiso is a much better place because of Chef Carlos and Elena. It's also much more fun!
Carlos and Elena did more than just make Valparaiso a restaurant destination…they made it a cultural destination. They set a standard for fine dining and remarkable wines, and they were the first to offer live music on a regular basis.  When people laughed at Chef Carlos's idea to offer outdoor dining, Carlos just smiled and tuned out the critics. Fortunately for fans of al fresco dining, Chef Carlos's tenacity helped develop the outdoor dining culture that defines Valparaiso.
Mayor Jon Costas once said Valpo's downtown is the heart of the city. When the heart beats strong, the body is healthy. If downtown is the heart of Valpo, Carlos is its soul.
More than just outdoor dining…it's an outdoor culture with a taste of the Mediterranean
Don Quijote is often described as an experience. The outdoor dining at Don Quijote is the perfect venue to spend a romantic rendezvous with someone special or with family and friends. It starts the ambiance. Nestled one block east of the Magnificant Court House Square, the outdoor setting is surrounded by flowers and has a retractable awning for when the sun is intense or a chance of rain threatens the perfect night out.
The perfect al fresco dining experience starts with a pitcher of fresh sangria or a glass of wine from the famous Don Quijote cellar. Chef Carlos is passionate about wine and has something for most tastes and budgets. Not sure what to order or want to explore the wines of Spain? Just ask Carlos for a recommendation. Carlos loves to talk about wines and can even help you discover which wines compare to the wines of Italy and France.
The Tapa. The servers at Don Quijote are well versed in helping you find a few tapas to get you started. Tapas are small plate appetizers that are meant for sharing. Spanish food is meant to be shared with friends and family. They pair well with wine, but many people opt for a refreshing craft beer or glass of fruit-infused sangria.
The secret to a perfect alfresco experience at Don Quijote
While many people will fill the table with a variety of tapas and explore the regions of Spain and the Mediterranean, it's the Seafood that has won praise by the Chicago critics and media. Carlos only orders the freshest seafood. His Calamari and Gazpacho are considered by many the best they've ever had. Carlos was brought up in Galicia, a maritime city known for its seafood and sensational wines. His father was a celebrity Chef on a cruise ship, and Carlos inherited his father's diverse Mediterranean recipes and extraordinary cooking skills.
Paella. National Dish of Spain. For a memorable cultural experience, try a pan of Paella while dining outdoors. While Don Quijote offers many varieties of Paella, the Marinera Paella is my favorite. It includes jumbo shrimp, cod, baby clams, scallops, mussels, squid, and crab legs.
The perfect ending to the Don Quijote outdoor dining experience is Chef Elena's fresh selection of desserts. The desserts of Don Q are considered by many to be the best in the region. The port is a dessert wine that Carlos blends in his cellar. Cheers!
Don Quijote Reservations Link
Ultimate Guide to Outdoor Dining: Da best is over dare…in Valpo!
So is Valparaiso the next second city? Meeting the Chefs in downtown Valpo might suggest it is. But with Valparaiso's chip on the shoulder attitude mixed with an infusion of international cuisine, the Downtown Valpo Restaurants believe they have what it takes to say, da best outdoor dining destination is over dare…in Valpo!
…and Noo Yawk?  Fuhgeddaboudit!
Written by- Jim Jano Janesheski
All rights reserved. Copyright 2020