Digital engagement: Wrap up your Valentine's Day plans at Ricochet & let the good times roll!
Valentine's Day is almost here…make your plans for a special evening at Ricochet Tacos. 
Ricochet Table of contents:
Ricochet's digital food and drink menu- Just click the

Ricochet Logo.

Phone number- old school!
How to roll the ricochet way! Video Fun
order

Ricochet online

link-digital orders. For a Romantic dinner at home!

Ricochet- Text

your orders in!
Food Listing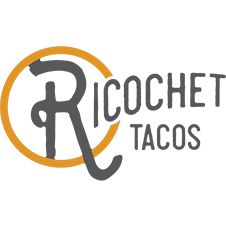 Do you wrap a burrito? Roll? Fold? 🌯Either way, check out this pro form captured by @antonio.hendricks1970 • • • • •#Repost #breakfast #valpoindiana2019 #ricochettacos

Posted by Ricochet Tacos on Saturday, January 25, 2020
Order Ricochet Taco's online
https://www.toasttab.com/ricochet-tacos/v3#!/
TEXT US YOUR CARRYOUT ORDERS @
219-730-8287
NOT TACOS
CHIPS & SALSA
House Chips + Tasting of Heirloom, Verde, and Arbol Salsas
LIL' GUACAMOLE & CHIPS
Fresh Avocados + Spices + Radish
YOJIMBO NACHOS
Ahi Tuna Poke + Chips + Napa Pico + Spicy Mayo + Avocado Vinaigrette + Watermelon Radish + Kabayaki + Black Sesame
HOUSE ELOTE DIP
Creamy Street Corn + Cilantro + Cotija + Paprika + Chips
IN QUESO EMERGENCY
Melted Queso + Mixed Peppers + Cilantro + House Chips
PISTOL PIE
Chili Cheese Fritos + Frijoles Charros + Melted Queso + Chipotle Sour Cream + Valentina + Cilantro
AROMATIC RICE
Long Grain Rice + Spices
FRIJOLES CHARROS
Stewed Pinto Beans + Queso Fresco + Cilantro + Pecan Bacon + Watermelon Radish
MYSTIQUE BURRITO
Our house burrito prepared as one of 4 of our staple tacos.
Handlebar * Highlander * Morning Glory * Cali Love
Top with Queso +$2.50
* No vegetarian or gluten free option available
TACOS
Tacos are served on white corn tortillas unless otherwise specified
FRITO BANDITO
Avocado + Cheese + Quick Pickled Jalapenos + Cilantro + Chipotle Crema + Chili Cheese Fritos + Heirloom Salsa
Add Steak +$2.50
DAT NEW NEW
House Made Pork Pastrami + Napa Pico + Poppy Seed Honey Mustard + FunYun Crumble + Jalapeno
HANDLE BAR
Skirt Steak + Avocado + Queso Fresco + Cilantro + Pickled Red Onions + Arbol Salsa + Napa Pico + Potato Haystack
GIN-JITSU
Seared Ahi Tuna + Napa Pico + Avocado + Spicy Mayo + Radish + Cilantro + Kabayaki + Sriracha
THE SURF NINJA
Blackened Gulf Shrimp + Napa Pico + Avocado + Spicy Mayo + BBQ + Poblano Tomato Salsa
*Substitute Cauliflower Upon Request*
THE TRUE ROMANCE
Buffalo Fried Chicken + Avocado + Jalapeno Cream Cheese + Jalapeno Ranch + Bacon Crumbles + Flamin Hot Cheetos + Cotija Cheese + Scallions
THE CROSSHAIRS
Bourbon Chicken + Chipotle Sweet Potato Salad + Mango + Avocado Vinaigrette + Chile Lime Canchas
NO COUNTRY FOR OLD MEN
House-Smoked Brisket + Avocado + Artichoke Mango Salsa + Salsa Borracho + Pimenton Vinaigrette + Queso Fresco
CALIFORNIA LOVE
Fried Chicken + Pecan Wood Smoked Bacon + Jalapeno Ranch + Sweet Peppers + Napa Pico + Avocado Vinaigrette + Jalapeno Chips
TATERS GONNA TATE
Avocado + Roasted Poblano + Adobo Potato + Cotija + Banana Pepper Salsa + Chipotle Cream + Scallions
TACO OF THE MONTH
THE FORTY THIEVES
THE CONQUISTADOR
Spanish Chorizo + Cilantro Lime Rice + Giardiniera + Roasted Garlic Aioli + Cotija + Scallions + Paratha
KIDS MENU
QUESADILLA
Your choice of Cheese, Steak, or Chicken
TACOS
Two Soft-Shell Tacos with Cheese and your Choice of Steak or Chicken
CHOICE OF SIDE
Kids meals come with your choice of Rice or Beans
We are committed to using premium ingredients and sourcing locally whenever possible.